Software Cradle User Conference 2019 was held on October 23.
The event ended with success with more than 400 attendance and 12 booth sponsors. We invited Professor Tetsuya Sakurai, Director of Center for Artificial Intelligence Research at University of Tsukuba, and a leading figure of AI (Artificial Intelligence) development and application, to give a keynote titled as Simulation and Data Utilization in Digital Age, to share his thoughts on the influence of AI on CAE industry. Presentations from users across the globe will also be available.
It was a pleasure to welcome and interact with our users and this year's speakers. We expect that attendees benefited from this special occasion and hope to see many again next year.



Date
Wednesday, October 23, 2019 10:00 - 17:15 (reception starts from 9:15)
Conference banquet starts from 17:30
Tokyo venue
Tokyo Conference Center Shinagawa (Shinagawa, Tokyo, Japan) 5F [MAP]


2-minute walk from JR Shinagawa Station East Exit (access via Shinagawa Station: JR Yamanote Line, Keihin Tohoku Line, Tokaido and Yokosuka Lines, Tokaido Shinkansen)
11 minutes from Haneda Airport International Terminal via Keihin Kyuko Line
70 minutes from Narita Airport via Narita Express

Osaka venue (satellite)
Congrès Convention Center (Osaka, Japan) Grand Front Osaka B2F
Admission
Free (prior registration needed)
AM
Time

Track A/B (merged)

9:15-10:00
Registration
10:00-10:15

Opening remarks
•Masayuki Kuba, President and CEO, Software Cradle Co., Ltd.

10:20-11:20

Keynote

11:25-12:10

• Makoto Shibahara, Software Cradle Co., Ltd.

New Features of V2020 and the Development Road Map

Introduction of new features for V2020 and development road map for the next version or later.

PM
Time

Track

A

Track

B

PM
Time

Track

C

12:10-13:20
Lunch
Prior registration needed
12:15-12:45

Multi Phase Flow Analysis Technologies by Software Cradle


Software Cradle has been implemented functions to analyze various multi phase flow in scSTREAM and scFLOW. Those functions are focused and developed even in V2020. Especially, the latest case studies and development status about phase transition technique between gas and liquid and DEM (Discrete Element Method) to treat particles and powder are presented here.

12:45-13:20
Lunch
13:20-13:55
• Metalsa, S.A. de C.V.


ESS Merge/ALSIM and DELIGHT EDDL Paint Simulation for Truck Frames


Metalsa, a major Tier-1 Supplier to the automotive industry, has, over the past two years incorporated Pain Simulation into their standard development process. This presentation details this integration, how the simulation tools were verified, and how the overall paint process was optimized as a result of this simulation.

B-1 Electronics


• Panasonic Corporation


Thermal Design at Connected Solutions Company of Panasonic


Prompted in the late 1990s, Panasonic's CFD development for design has now been implemented in many product development and design processes. We are now working on the development of measuring equipment for emitted heat as well as thermal transfer device. This session will outline these approaches, and AI application for CFD, which we are starting to initiate for future development.

13:25-13:55

scFLOW from the Viewpoint of Usability


scFLOW, especially the Preprocessor, has been developed under the theme of "improving usability". From the viewpoint of usability, this session explains scFLOW UI, redesigned from SC/Tetra, and V2020 new functions of the mesher and faceter. Also, the final goal and future development plans will be introduced.

13:55-14:05
Break
Break
13:55-14:05
Break
14:05-14:40
• YAMAHA MOTOR CO.,LTD.


Aerodynamics of racing vehicles using SC/Tetra


YAMAHA MOTR has been using SC/Tetra for 20 years for product development. As the software enables evaluation of fluid properties and efficient development, SC/Tetra has been used for many of our products. This technology has also been applied to MotoGP racing vehicle to seek 0.1 second improvement. In this session, we will introduce examples to talk about how CFD has been used on past racing vehicles, as well as how YAMAHA MOTOR and Software Cradle has come to establish existing relationships.

• RISO KAGAKU CORPORATION


Application of Fluid Analysis on Inkjet Printing System


Inkjet printing system separates liquid as droplets, and sprays them onto recording medium, allowing image to be formed without any contact. This session introduces application of scSTREAM, mainly about unique process of inkjet handling and airflow analysis technique which is necessary for product design.

14:05-14:35

Basics of Aeroacoustic Simulation with scFLOW


This session introduces necessary knowledge, fundamental know-hows and the challenges of noise analysis in an easy-to-understand explanation. New functions for V2020 including FW-H method and wavelet transform effective for noise analysis will also be shared to develop best practices for future aeroacoustic analyses.

14:40-14:50
Break
Break
14:35-14:50
Break
14:50-15:25

P-1 Technical Partner

•ESS (Engineering Software Steyr)

Saving Potentials using Alsim Paint Shop Simulations

Using Alsim Paint Shop simulations, customers can improve painting quality and optimize painting costs. Savings include: 1. Optimized design for new products (simulate the painting quality of new products in design phase and to get suggestions how to change the design for the best painting quality and reduce costly prototypes and physical tests), 2. Optimized operating painting lines (enhance overall performance of operating painting lines, to minimize energy, water and paint consumption, to find the real source of problem in case of flaws in the final products to reduce the rate of production line-stops for repair or maintenance purpose), and 3. Optimized design for new painting lines (avoid a wide range of potential operation issues, simplify the entire process flow by optimizing different stages regarding elapsed time or space, and to minimize energy, water, and paint consumption).

P-2 Technical Partner

•Noesis Solutions

Managing Different Levels of Fidelity in CFD using Data Fusion


During the design and optimization of vehicles, their aerodynamic characteristics are typically obtained by experimental-based wind tunnel tests and high accuracy CFD simulations. Both methods come at a cost, either being economically or computationally expensive. Alternatively, the computational intensity of CFD simulations can be reduced by combining lower fidelity CFD models and methods with high accuracy variants. In this presentation, such methodology is introduced based on a data fusion algorithm. Using Optimus for Cradle, automated CFD workflows are created that generate both the low and high fidelity data. Next, by running the data fusion algorithm, the accuracy of the low fidelity CFD calculations can be significantly improved by adding a small set of expensive CFD experiments. An important aspect of data fusion is determining where the additional high fidelity CFD experiments should be added. This presentation outlines the application of such a data fusion process using Optimus.

14:50-15:20

P-3 Technical Partner

• Advanced Design Technology Japan Co., Ltd.

Optimization of a Pump Impeller by using TURBOdesign Suite and scFLOW


In this presentation we will show how by coupling 3D inverse design Software TURBOdesign1 with scFLOW the geometry of a high specific speed pump impeller is optimized for efficiency and cavitation performance.

15:25-15:50
Break
Break
15:20-15:50
Break
15:50-16:25
• Obayashi Corporation


Computational design with Grasshopper and scSTREAM for Integrated Design


Grasshopper enables flexible development by allowing geometry change, which was conventionally difficult. For this reason, the tool has been applied in diverse range of industries and used in integration with 3D-CAD and analyses. Seeing the advancement taken place worldwide, the expectation for CFD is also significant. Following the trend, we have combined Grasshopper and scSTREAM to reinforce database linkage, analysis automation, and Postprocessor handling.

•DAIHEN Corporation


Application Case of Nozzle Jet in Arc Spraying using Density-Based Solver


Arc spraying is a type of coating technology that performs surface modification by applying anode and cathode between two metallic wires to trigger arc discharge to let metal melt. Melted particles are then sprayed onto object surface by nozzle jet air. This session will briefly introduce our attempts in evaluating jet stream phenomenon of nozzle using density-based solver in scFLOW V14.1, which in part was undertaken in pursuit of establishing a new technique to control fractionating melted particles and regulate jet stream from nozzle.

15:50-16:20
Development of Co-Simulation Technology for Fluid-Structure Problems with Strong Interactions



MSC group has given developed co-simulation technology as a solution to fluid-structure coupling problems, Improvement was made to deal with strong interactions acting between deformation and pressure that comes across with fluid with coupling analysis which involves high density. This presentation introduces a co-simulation example of blood flow in the blood vessel with stenosis.

16:25-16:35
Break
Break
16:20-16:35
Break
16:35-17:10
•SHINRYO CORPORATION
Analysis of Flow Noise for an Air-Handling Piping System Using SC/Tetra and Actran


We have been working on fluid acoustic analysis of air-conditioning duct using a fluid analysis software that has been used in the area of building and facility, SC/Tetra, and an acoustic analysis software, Actran. To evaluate the prediction accuracy, we have evaluated a simple T-shape tube, where vortex (and source of aeroacoustics) is generated, as well as resonance effects. This session will introduce comparison drawn from analysis and experiment results.

• Shinnihon Reiki Co., Ltd


Flow analysis of sprinkler in large cooling tower for industrial use


Cooling tower uses outdoor air to cool down and reuse a large amount of heated water, which was previously used in industrial facilities, such as manufacturing plant, power generation plant, and air-conditioning facilities. Considering its made-to-order characteristic, and that facility scale is significantly large, prototyping is difficult, and simulation is a vital means of validation. This session will introduce how we performed flow analyses of sprinkler system for cooling tower in Japan's largest geothermal power plant.

16:35-17:05
Aiming for a High Precision Digital Twin



The construction of a digital twin that can virtually reproduce a realistic phenomenon greatly contributes to improvement of design and manufacturing process in the manufacturing industry. In this presentation, we will introduce how we aim to construct a high-precision digital twin by integrating the measurement technology owned by the Hexagon group and the CAE technology developed by MSC software.

17:10-17:15
Closing remarks
Closing remarks
17:05-17:10
Closing remarks
17:30-19:00
Conference banquet
* Q&A duration may change depending on the schedule on the day.
* Attendees can choose any session for all Track A, B and C.
* Additional seats will be provided when regular seats are full. We may not be able to provide enough seats when number reaches maximum capacity.
* Program may change without prior notices. Time may be adjusted depending on the schedule on the day.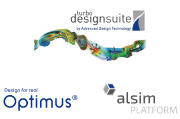 Technical Partner Presentations (P1 – P3)
Presentations on Software Cradle's technical partner tools were given in P1 – P3. Alsim, an explicit tool dedicated to vehicle paint processes, Optimus, an optimization tool, and TURBOdesign Suite, a reverse analysis design tool, were introduced.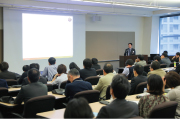 Technical Forum (12:15-17:05)
Technical Forum sessions, one of our popular contents of User Conference, were given in this year event too. Technical tips and resourceful information of Software Cradle products and MSC Software tools were explained.
For any inquiries regarding User Conference 2019, please contact MSC Software representative in your local area.
Find out presentation titles from previous user conferences